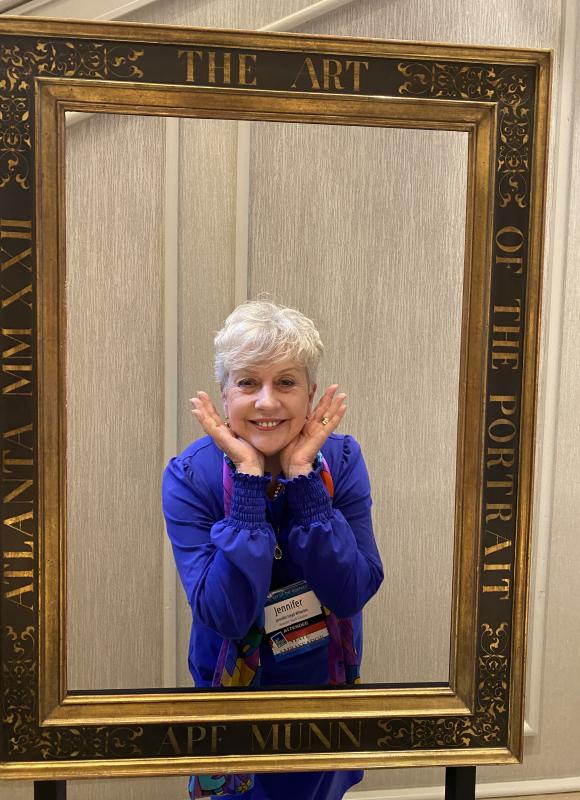 Originally from Strafford, PA, then living for many years in Annapolis, MD, Jennifer moved to Maryland's Eastern Shore in 1997 and opened the highly acclaimed Troika Gallery in Easton, MD, which she co-owned until 2018. She continues to be represented by Troika Gallery and maintains two studios in Beaufort, SC, one at her home and one at Atelier on Bay.
About Jennifer Heyd Wharton
I view my role as a painter to capture the spirit of my subjects, making them come alive. My goal is to evoke an emotional response, creating a connection of delight between the artist and the audience. Whether painting the eyes of a child, the face of an animal or the striking shapes of a landscape, boat or building, I hope to make people feel uplifted by my art.

My inspiration in painting comes from the relationship between the light and the shadows that play around a subject. Within my subjects, I look for the large interlocking shapes of lights and darks, the dominant color and temperature that set the stage for the painting. Whether working in watercolor or oil, I carefully plan my composition, making a thumbnail sketch that gives me the road map of my values for painting. As I begin to fill the canvas or watercolor paper with the composition, I am then free to paint, giving the painting its soul by blending edges, heightening and lowering values, and punching or softening color with exquisitely subtle details. During this process, the painting and I become one.

After majoring in illustration and photography at the Moore College of Art in Philadelphia, I had a successful career as a package designer, art director, illustrator, and gallery owner. I studied oil with David Leffel and Jeremy Lipking. Later in my career, I was re-inspired to study watercolor with several nationally known watercolorists including Homer Hacker, Skip Lawrence and Luella Morganthaller. By painting watercolors, I found my voice as a painter. In 2012 and 2013, I was voted Best Artist (Upper Eastern Shore) by Maryland Life Magazine. Both my oil and watercolor paintings have won numerous awards, including receiving the Sam Hemming Award from the Academy Art Museum and the Caton Frame Award from the Baltimore Watercolor Society in 2008, and being selected for the Leigh Yawkey Woodson Art Museum's Birds in Art Exhibition in 2008.

Through my paintings I tell the stories of my subjects, capturing the essence of a moment in time. I use my art to sing what my voice cannot. And the song I strive to share is that of praise for the wonder and joy of life always present in the harmony of shapes and colors that surround us.